SERVICE
 | Social Media Content, Content Creation, Copywriting, Planning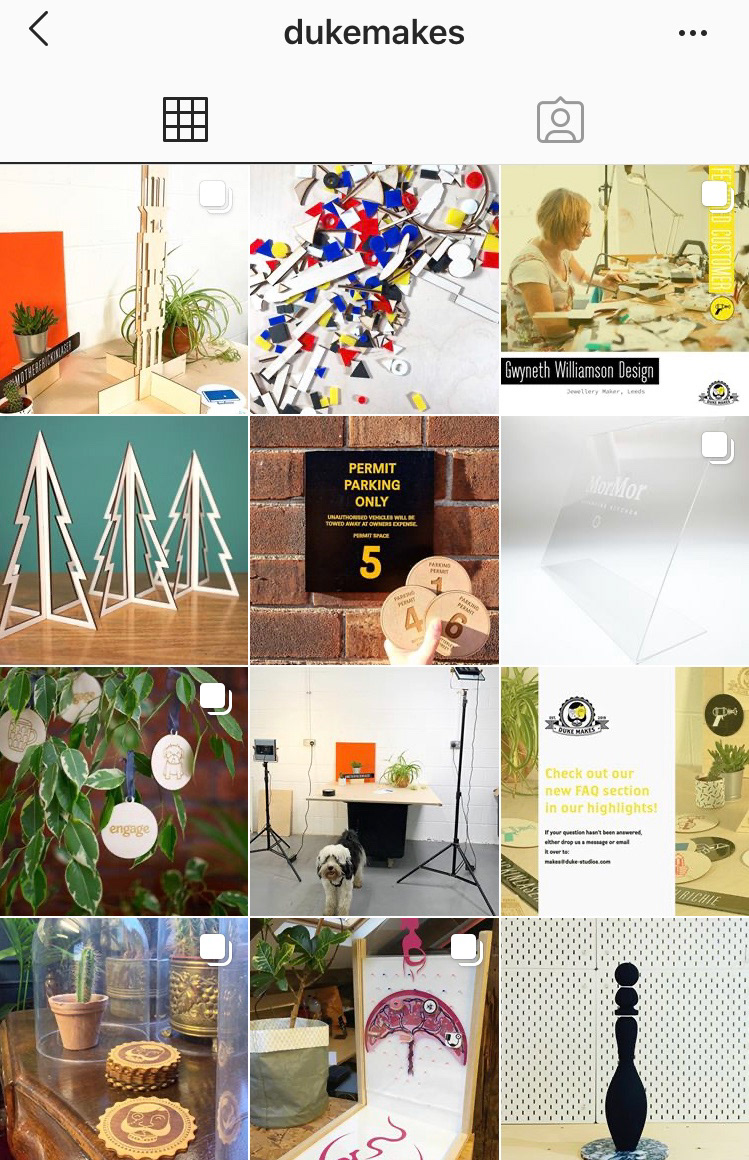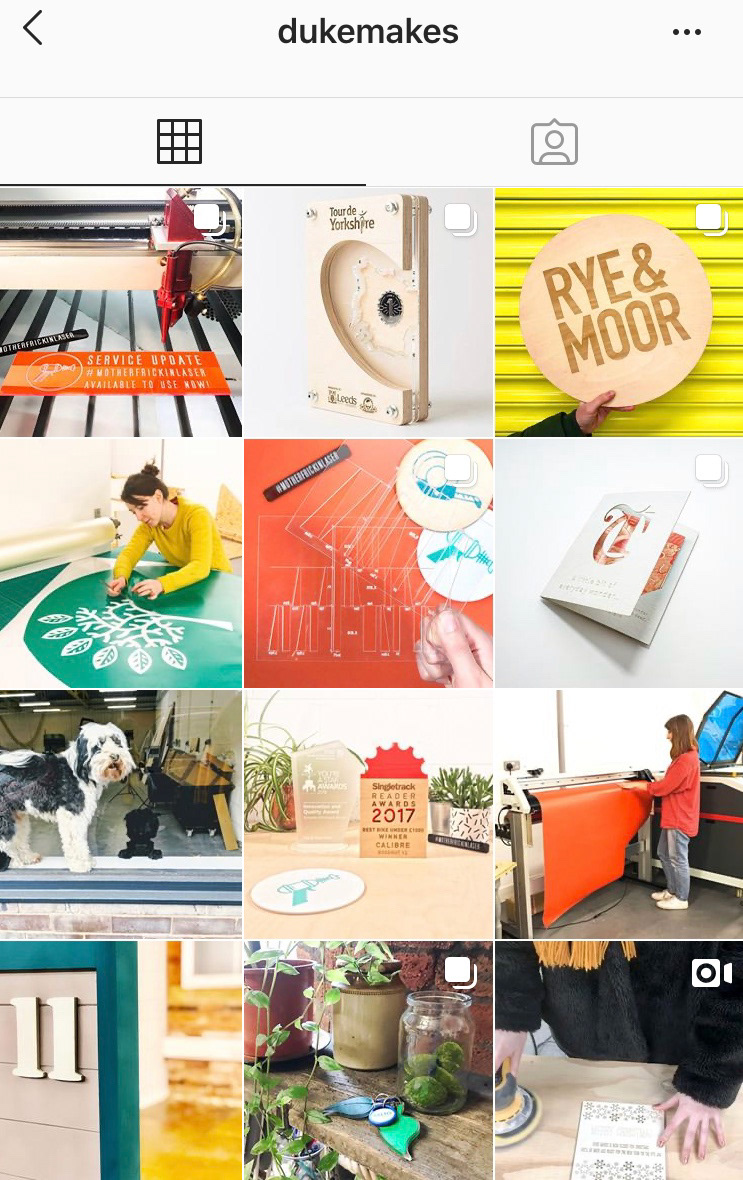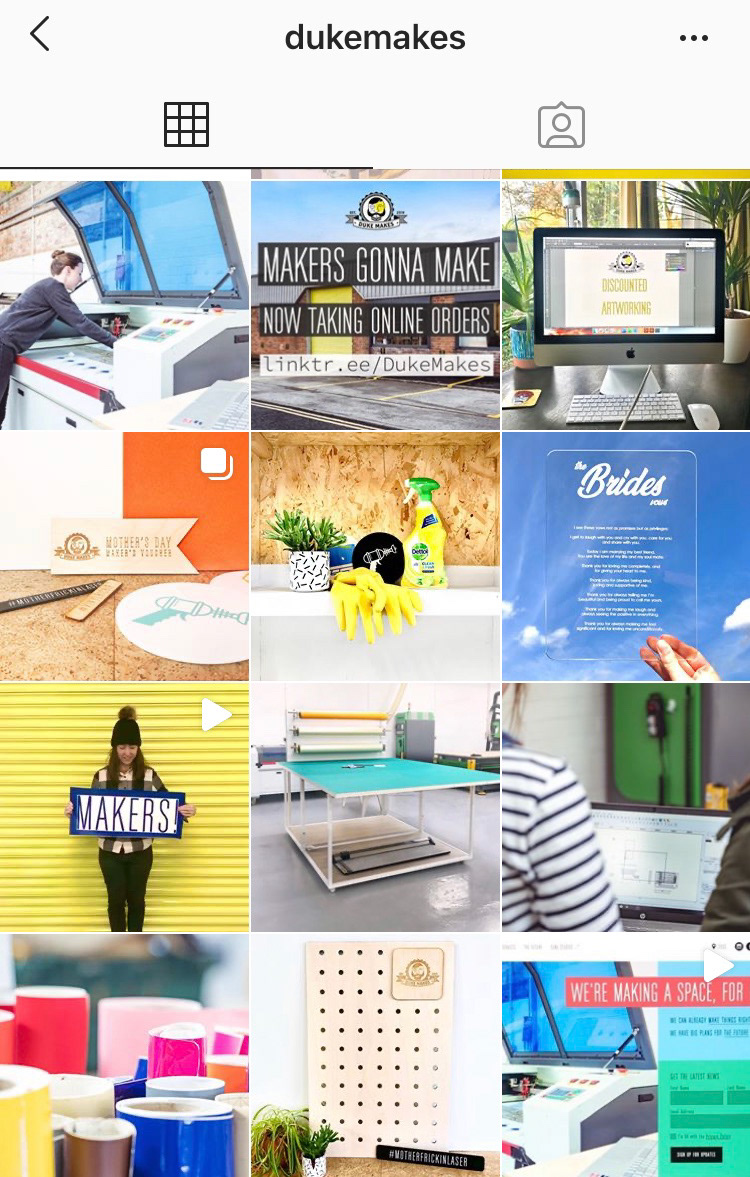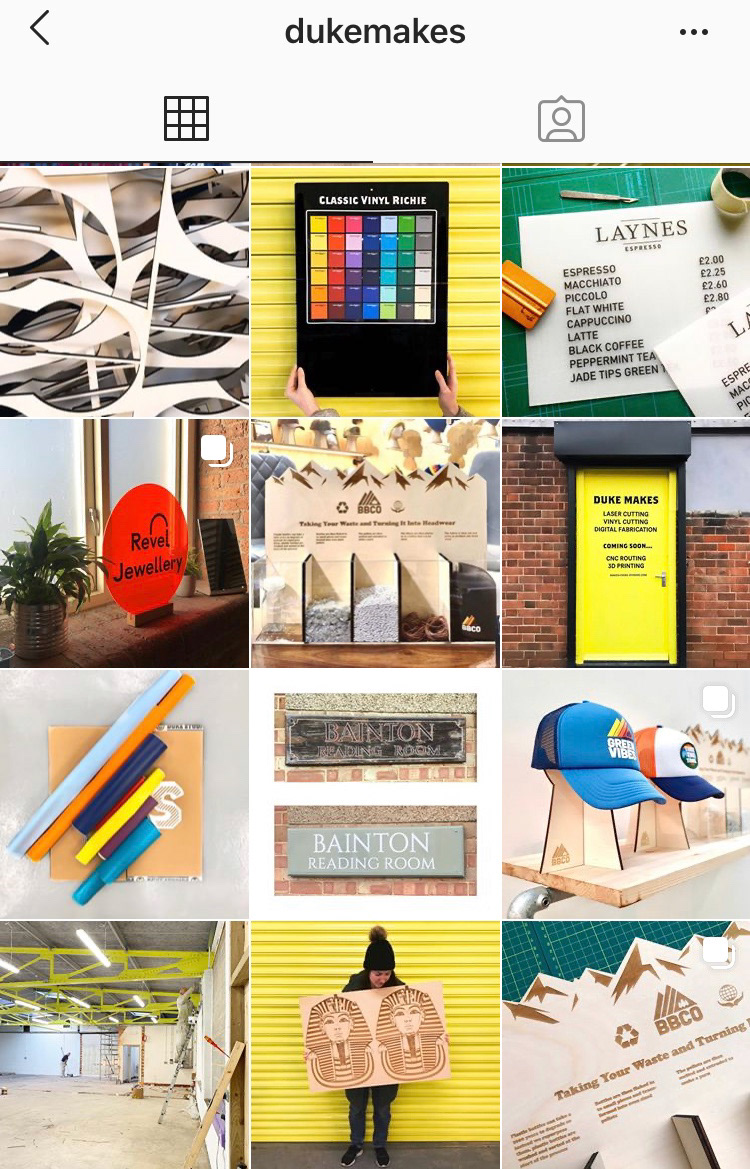 Duke Makes is the new venture from Duke Studios. It is a work-in-progress Creator Space that offers a range of design services such as Laser and Vinyl Cutting. Part of my job role includes helping to build the social media accounts to increase engagement and trade. I co-run the Instagram account which requires coordination and communication when planning content. Duke Makes is in its early stages so there is currently no budget for Social Media. This makes careful curation, hashtag use and insight analysis all the more important. I introduced Later as a free application to allow us to plan and schedule content and regularly monitor our Instagram Business Insights to analyse which posts respond best with our customers.  As well as ensuring that each picture will work well on the grid, I have also implicated a range of new features to try and increase traffic on our page. When putting these features into place, it was vital that I followed the already-existing brand guidelines for Duke Makes; I made sure that the right HEX code was always being used for the yellow, that the correct typefaces were being used for the right sections of text, that the existing logos (the laser, hammer, pencil, and Duke himself) were all edited accordingly to appear at the right quality.
The first feature that I implicated was the FAQ stories. It is well known that page growth comes through engagement with your audience so I used Adobe Spark Post to make graphics to give the public a chance to ask any questions that they have about Duke Makes. I made the graphics first,
uploading them as a story, and then used the Instagram Question Feature to allow the public to ask whatever they needed to know. I then made a separate Spark Post graphic for each answer so that I could upload these as a story, while sharing the answer as well. We got a great response from these and have now been able to save all of them in a new 'Highlights' section. To further increase traffic to the new FAQ Highlight, I created a visual post in Spark Post to share on our feed. This sets the theme for more branded graphics in the future.
I set up our Highlights section so that each highlight has a uniform Duke Makes logo and fits with our branding. The next section I introduced was the 'Meet The Team' Highlight. It's important as a business to remain approachable and human so I thought it'd be a good idea to introduce each member as a separate story that can then be added to our highlights. I did this again through making a template in Spark Post that I can easily alter for each person. You can see each Highlight section below- I used Adobe Premier Rush to put each image together as a video for the purpose of this portfolio.
The 'Featured Customer' is a monthly feature that again will increase engagement with our followers and allow us to highlight the work of some of our best customers. I made a template in Spark Post that fits in with all our branding and can easily be edited each time to add in a new artist. We only launched this feature in December and the first one was successful - the artist shared it onto her page, increasing traffic and followers for Duke Makes.